Upcoming Events in Kansas City Area
Talk about awesome! 2018 just started and were getting the two largest conventions in the Kansas City area back to back! In just a little over a week from now Bartle Hall will be host to the long running Planet Comicon. From February 16th- 18th Planet Comicon is the place you are going to want to be to see some of the biggest and most popular names in entertainment today. From Aquaman star Jason Momoa to WWE & WCW legend Sting, this year's comicon is definitely going to be exciting. Tickets are available online here.
Not to be outdone, Naka-Kon is returning to the Overland Park Convention Center March 16th-18th. Like always expect amazing musical guest, as well as some of the most talented voice actors in the industry to be attendance.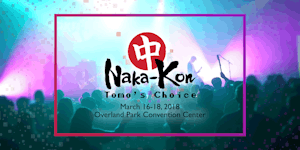 I cant imagine a better way to start the year than with both Planet Comicon and Naka-Kon! There'll be even more events  throughout the year, but this will definitely build momentum and get us ready for the summer. For more information on either event, follow the links below.
Hope to see you all there!